Visit our Reading Room:
707 S. Forest Avenue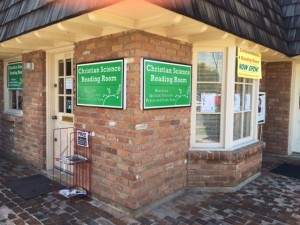 Suite D
Tempe, AZ 85281
(480) 820-3675
You'll find us open six days a week, located in the heart of the ASU campus, north of University, between Rural and Mill Avenues, on S. Forest Avenue.  There is plenty of metered parking on the street and in a public parking lot across the street.  Fees are $1.50 per hour for street parking and $2.00 per hour for the lot.  Credit cards are accepted at the meters.
(September – April)                               (May – August)
Monday – Friday                                  Monday – Saturday
10:00 am – 4:00 pm                            10:00 am – 2:00 pm
Saturday
10:00 am – 2:00 pm
The Reading Room also hosts a book club that meets once a month on the second Thursday of the month at 7 pm.  The book club currently meets in the Tempe church at 1824 E. Loma Vista Dr., Tempe, AZ.  Newcomers are always welcome.
What is a Christian Science Reading Room?
A Reading Room is a bookstore and library where anyone, regardless of faith, can come to read, pray, or learn more about Christian Science from the friendly staff.
The Tempe Christian Science Reading Room is our open door to the community.  It's a place where you can come in and read the weekly Bible lesson, read testimonies of healing in the current periodicals or on JSH-Online, research articles on Christian Science using the computer, listen to audio selections, ask questions, or buy books and literature to advance your spiritual quest.  Here we make Science and Health with Key to the Scriptures, by Mary Baker Eddy available to the public.  We also carry the Christian Science Monitor Weekly Magazine, an award-winning newspaper dedicated to unbiased, solution-oriented reporting of national and world news.  For those guests eager to purchase Science and Health with Key to the Scriptures by Mary Baker Eddy or other authorized Christian Science books, you may purchase them online.