Generously supported by the Tempe church and friends.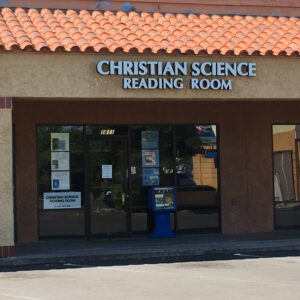 New location!
1811 E. Southern Ave.
Tempe, AZ 85282
(480) 820-3675
Hours
Mon – Sat: 10 am – 2 pm
Sun: 11:30 am – 2 pm
Closed on holidays
Come visit us at our new location in the shopping center on the SE corner of Southern and McClintock in Tempe. You'll find plenty of free parking.
What is a Christian Science Reading Room?
A Reading Room is a bookstore and library where anyone, regardless of faith, can come to read, pray, or learn more about Christian Science from the friendly staff.
The Tempe Christian Science Reading Room is our open door to the community. It's a place where you can come in and read the weekly Bible lesson, read testimonies of healing in the current periodicals or on JSH-Online, research articles on Christian Science using the computer, listen to audio selections, ask questions, or buy books and literature to advance your spiritual quest. Here we make Science and Health with Key to the Scriptures, by Mary Baker Eddy available to the public. We also carry the Christian Science Monitor Weekly Magazine, an award-winning newspaper dedicated to unbiased, solution-oriented reporting of national and world news. For those guests eager to purchase Science and Health with Key to the Scriptures by Mary Baker Eddy or other authorized Christian Science books, you may purchase them online.